SA-002
Australian Patent Application No. 2006202666
SYDNEY WATER Product Authorisation No. 2006-381
Features and Highlights
Wide diameter chamber with a removable primary steel mesh basket plus a secondary fixed basket as back up, both having 4 mm diameter holes.
Flow out of the sink is stopped using a flexible, fitted rubber plug which sits snugly inside the unit.
Removable basket keeps cleaning simple and minimal, with the diameter of the cylindrical Everbright SA-002 allowing easy access for kitchen staff to remove the dry mesh basket for emptying and cleaning.
The extraction handle across the inner diameter of the basket enabling the basket to be simply lifted out.
The height of the Everbright SA-002 (102 mm) is kept to the minimum possible. This reduces under sink obstruction, leaving plenty of room for cleaning the floor below, or the under sink cupboard, in the case of smaller commercial kitchens.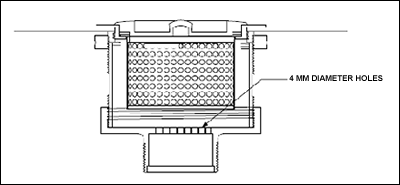 Everbright SA-002
Dimensions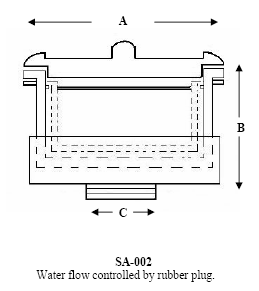 Diagram shown above is not to scale.
| | |
| --- | --- |
| | SA-002 |
| Cut hole diameter* | 114.3mm |
| Unit Diameter (A) | 132mm |
| Unit Height (B) | 102mm |
| Diameter of connection to S & P trap (C) | 50mm |
*Hole enlargement required for existing sinks with a 135mm flat annulus
Material of Construction
The Everbright SA-002 is made out of food grade stainless steel, making it exceptionally durable. The plug is made of hard-wearing food grade silicon.
Maintenance Instructions
Other than regular cleaning is encouraged to ensure the holes of the mesh basket and the secondary fixed basket are not blocked by grease or small food particles, the Everbright SA-002 requires fairly minimal maintenance.
The rubber plug should also be kept clean to ensure it continues to fit tightly. Replacement plugs can be purchased from the manufacturer, should they be needed.
In the unlikely event of leakage at the joints, an approved sealant should be reapplied.
Installation Instructions
The Everbright SA-002 can be installed into any pre-existing or new commercial kitchen sink by a licence plumber.